Haunted Teesside - Paranormal Events Teesside
Spirit Seekers for paranormal events in haunted Teesside.
See below to book our upcoming Teesside Ghost hunts.
Scroll down for events or select your area.
Croxdale Old School (Durham)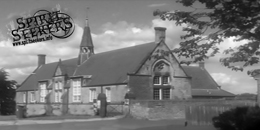 13 Rogerson Terrace, Croxdale Durham , county durham, DH6 5HJ
View Map
10pm - 3am
20 places left


Saturday 04/11/2017
£27 per person

Created in 1878 to help educate the local miner's children. It's been the setting of happy memories, tragic loss and untimely death. Today there is believed to be a mischievous entity in this building with objects being found out of place for no apparent reason. In every room people often hear what sounds like children running around and playing. Strange figures are seen moving from one room to another with sounds of talking, shouting and slamming doors.
Hippodrome (Bishop Auckland)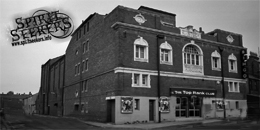 1 Railway St, Bishop Auckland, county durham, DL14 7LR
View Map
10pm - 3am
20 places left


Saturday 11/11/2017
£41 per person

A former theatre created in 1909. Also used as a picture house and bingo hall for many years. There have been a lot of unusual occurrences in this building from electrical items turning themselves off to old seats flipping up and down. Whispering voices are heard in here with running footsteps and loud banging as if things are being moved. What looks like a young boy has been seen, a woman walking through the building and a dark figure so frightening that it has brought people to tears.
Hartlepool Town Hall Theatre (Hartlepool)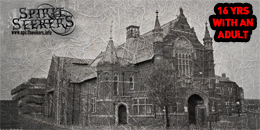 Raby Road, Hartlepool, county durham, TS24 8AH
View Map
10pm - 3am
30 places left


Friday 08/12/2017
£41 per person

Built 1897 and has been host to many activities over the years from important meetings to trade fairs and dances. Also once partly used as a school and commandeered by soldiers during the war. People often feel afraid and that they are not alone here. Indeed, sounds of movement, knocking and footsteps can be heard coming from dark, empty, rooms. Odd lights are seen and doors moving on their own. A young female voice is often heard calling out and the voice of a man though to be a technician who once worked here.
Grand Hotel (Scarborough)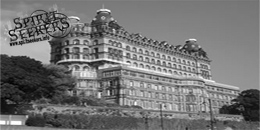 Saint Nicholas Cliff, Scarborough, North Yorkshire YO11 2ET
View Map
10pm - 3am
20 places left


Saturday 10/02/2018
£35 per person

Built in 1867 to accommodate for most noble of guests. It was 1 of the largest hotels in the world with 365 rooms representing each day of the year. Todays visitors have commented on strange encounters & some have even left after witnessing items flying across their rooms & objects falling from walls, doors vigorously shaking & knocking with no one on the other side. Sounds of screaming, singing & laughter are heard & most commonly old fashioned music. Various apparitions are seen but none more so frequent than the lady wearing a long red dress.