Charltons village hall (Guisborough)77
Videos, Pictures & Comments
Whilst using a Ouija board a spirit named Eve told them that she and an accomplice had killed a young girl before setting fire to this building. So the group decided to ask the same questions using a spirit box. Ghost hunting at charltons village hall Guisborough www.spiritseekers.co.ukWhilst using a Ouija board a spirit named Eve told them that she and an accomplice had killed a young girl before setting fire to this building. So the group decided to ask the same questions using a spirit box. Ghost hunting at charltons village hall Guisborough www.spiritseekers.co.uk
10 July 2016 ghost hunt comment from customer

Fabulous night a Charltons last night! Ive been on lots of events through Spirit Seekers and this, in my opinion has been the best so far! EVP's, sounds of coins being dropped when no one was there, answers to a serie of questions, strange noises, flashes of light etc etc. Brilliant night with a good group of people! Thank youfor an eventful evening!
Charltons village hall (Guisborough)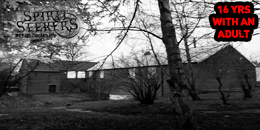 Charltons, Guisborough, Saltburn-by-the-Sea, Cleveland TS12 3DA
Map
10pm - 3am
4 places left


Saturday 02/10/2021
£33 per person

Created in 1900 as a miners institute and bathhouse. Later used for various activities despite a mysterious fire and the closure of the mines. Ghostly ballroom dancers have been seen in the halls with shuffling sounds, moving objects and dark shadows in the former bathhouse.