Haunted Northumberland - Paranormal Events Northumberland
Spirit Seekers for the most haunted events in Northumberland.
See below to book our upcoming Northumberland paranormal events.
Scroll down for events or select your area.
Theatre royal (Workington)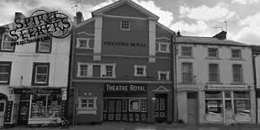 Washington Street, Workington, Cumbria CA14 3AW
View Map
10pm - 3am
23 places left


Friday 27/07/2018
£31 per person

Purpose built in 1866. It has been host to all kinds of performances throughout the years and also once used as a cinema showing silent movies. People have felt a heavy, unwelcoming energy here and pressure on their shoulders. Some visitors have had things thrown at them. Loud banging is heard, items have been seen to physically shake and black figures have been witnessed running through the building.