Haunted Northumberland - Paranormal Events Northumberland
Spirit Seekers for the most haunted events in Northumberland.
See below to book our upcoming Northumberland paranormal events.
Scroll down for events or select your area.
Jedburgh Prison Castle Museum (Jedburgh)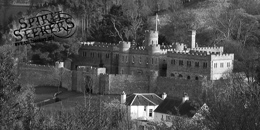 Castle Gate, Jedburgh, Roxburghshire TD8 6AS
View Map
10pm - 3am
20 places left


Saturday 16/02/2019
£60 per person

Featured on TVs Most haunted. A former 1820s prison built on the site of the 12th century castle and the town gallows. Jedburgh justice was the name given to the brutal executions and torture techniques used here. As a museum sounds of screaming, crying and phantom pipe music has been heard throughout. Thick fog creeps across the floor with strange lights and sightings of a tall man. The cell doors slam and lock by themselves and objects have been thrown at anyone whom has dared to enter. Anyone fancy a lock in?
Chillingham Castle (Alnwick)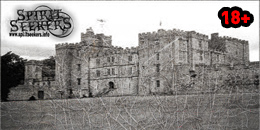 Chillingham, Alnwick, Northumberland, NE66 5NJ
View Map
10:30pm - 3:30am
14 places left


Friday 15/03/2019
£69 per person

Built in 1100s as shelter for English soldiers & prison for Scottish rebels. Regarded Britains most haunted castle & seen on numerous TV programs because of countless paranormal incidents & a horrific, bloody past that earned it the name "Home of the tortures". Thousands of people have been tortured to death here in most terrifying ways & their spirits remain. This building comes with a stern warning that its not for the faint hearted & has been described as the embodiment of evil
Blue Bell Hotel (Belford)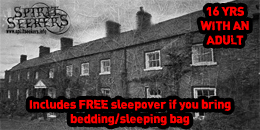 Market Place , Belford, Northumberland, NE70 7NE
View Map
10pm - 10am
20 places left


Saturday 01/06/2019
£35 per person

A former coaching inn dating back to 1763. It's now said to be haunted by a maid that walks through walls and throws objects at those unlucky enough to get in her way. Staff members and visitors have heard doors slamming, whispering and other unusual sounds coming from empty rooms. Items have fallen from the walls, glasses have flown across the room and people have been physically pushed against the bar.