Haunted North Yorkshire - Paranormal Events North Yorkshire
Spirit Seekers for the best in haunted events in North Yorkshire.
See below to book our upcoming North Yorkshire paranormal events.
Scroll down for events or select your area.
Tickhill Parish Room (Doncaster)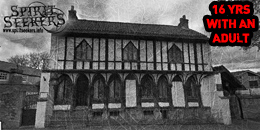 N Gate, Tickhill, Doncaster, South Yorkshire, DN11 9HZ
View Map
10pm - 3am SOLD OUT
0 places left


Saturday 25/05/2019
£27 per person

Dating right back to 1470 this was once a hospital ran by Benedictine monks. It's also been a tenement slum, a reading room, a school and a parish meeting room. With it being such a creepy old building the management don't stick around at night but they believe that there is something very unusual here. They would like to know "is it haunted?" It's never been investigated before and this is our chance to find out.
Charltons village hall (Guisborough)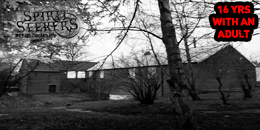 Charltons, Guisborough, Saltburn-by-the-Sea, Cleveland TS12 3DA
View Map
10pm - 3am
2 places left


Saturday 15/06/2019
£30 per person

Created in 1900 as a miners institute and bathhouse. Later used for various activities despite a mysterious fire and the closure of the mines. Ghostly ballroom dancers have been seen in the halls with shuffling sounds, moving objects and dark shadows in the former bathhouse.
grand hotel (Scarborough)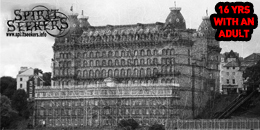 Saint Nicholas Cliff, Scarborough, North Yorkshire YO11 2ET
View Map
10pm - 3am
14 places left


Saturday 20/07/2019
£36 per person

Built in 1867 to accommodate for most noble of guests. It was 1 of the largest hotels in the world with 365 rooms representing each day of the year. Todays visitors have commented on strange encounters & some have even left after witnessing items flying across their rooms & objects falling from walls, doors vigorously shaking & knocking with no one on the other side. Sounds of screaming, singing & laughter are heard & most commonly old fashioned music. Various apparitions are seen but none more so frequent than the lady wearing a long red dress.
Station Promenade (Morecambe)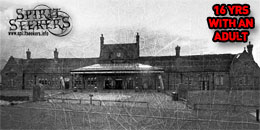 Old Station Buildings, Marine Road West, Morecambe LA4 4DB
View Map
10pm - 3am
20 places left


Friday 13/09/2019
£28 per person

Write up coming soon :)