Haunted North Yorkshire - Paranormal Events North Yorkshire
Spirit Seekers for the best in haunted events in North Yorkshire.
See below to book our upcoming North Yorkshire paranormal events.
Scroll down for events or select your area.
Railway Arms (Brotton)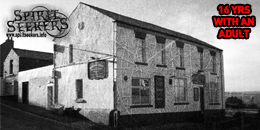 High St, Brotton, Saltburn-by-the-Sea, TS12 2SP
View Map
10pm - 3am
9 places left


Friday 13/12/2019
£23 per person

Built 1886 as an inn for weary travelers of the newly created railway network. Staff, locals & performers witnessed orbs of light pass throughout the building & heavy footsteps upstairs but there have been many accounts of dark shadowy figures & headless bodies, furniture moved and a faceless man seen to sit on tables and walk through walls and disappear at night.
Haunted Objects Museum (Rotherham)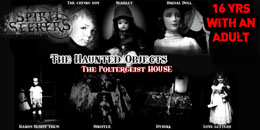 70 Broad St, Rawmarsh, Parkgate, Rotherham, South Yorkshire, S62 6EQ
View Map
10pm - 3am
4 places left


Friday 17/01/2020
£40 per person

Built in the 1880s it was once the home of a miner that is said to have died in a fire. Following multiple stories of paranormal activity it's now been turned into a museum displaying some of the world's most haunted items. Mannequins and dolls have been seen moving on their own. Scratches have been found on the walls and handprints in mirrors. Loud banging can be heard along with groaning sounds, whistling, talking and singing. Items fly off shelves and people have been scratched. Shadowy figures and the image of a woman have been seen. It's become known to some as the Rotherham poltergeist house or even the Hell house.
grand hotel (Scarborough)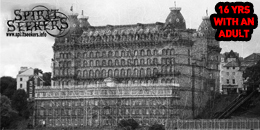 Saint Nicholas Cliff, Scarborough, North Yorkshire YO11 2ET
View Map
10pm - 3am
15 places left


Saturday 25/01/2020
£36 per person

Built in 1867 to accommodate for most noble of guests. It was 1 of the largest hotels in the world with 365 rooms representing each day of the year. Todays visitors have commented on strange encounters & some have even left after witnessing items flying across their rooms & objects falling from walls, doors vigorously shaking & knocking with no one on the other side. Sounds of screaming, singing & laughter are heard & most commonly old fashioned music. Various apparitions are seen but none more so frequent than the lady wearing a long red dress.
Antwerp Mansion (Manchester)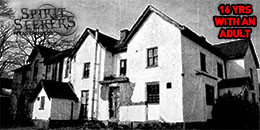 Park Crescent, Manchester, Greater Manchester M14 5RF
View Map
10pm - 3am
18 places left


Saturday 22/02/2020
£42 per person

Featured on TVs Most haunted. A wealthy merchant's home built in 1840. Also once used as a private club for high-profile guests such as Sir Winston Churchill. Strange noises are often heard here from female voices to running footsteps, whistling, growling and deep repetitive thudding. Childlike humming sounds have been associated with a young boy who apparently died in one of the upstairs rooms. Items will move or even get thrown. Strange flashes of light have been seen along with frightening shapes and a figure that walks the length of the building.
Station Promenade (Morecambe)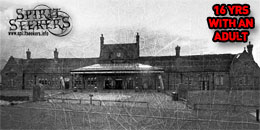 Old Station Buildings, Marine Road West, Morecambe LA4 4DB
View Map
10pm - 3am
10 places left


Saturday 07/03/2020
£28 per person

A former railway station created in 1907. It has stories of despair and even suicide. It's believed to be haunted by a mischievous spirit that likes to shake objects and throw things on the floor. Whispering, talking and even screaming can sometimes be heard. There have been a lot of unusual sightings here and the apparition of a woman has caused many people to run with fear.
Fleece Inn (Elland)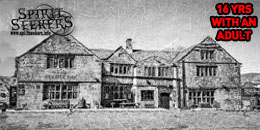 Westgate, Elland, West Yorkshire HX5 0BB
View Map
10pm - 3am
6 places left


Friday 27/03/2020
£34 per person

Featured on TV's Most haunted. It dates back to 1610 and was once used as a vicarage. It has a history of murder and is considered one of Britain's most haunted inns. Violent poltergeist activity has been witnessed with items of furniture and glasses being thrown. People have heard scratching on the walls, constant knocking, old fashioned music, voices and walking on the stairs. Apparitions of a young girl and many dark figures have been seen. It also sits on land known for sightings of a headless horseman.