Haunted West Yorkshire - Paranormal Events West Yorkshire
Spirit Seekers for paranormal events throughout West Yorkshire.
See below to book our upcoming West Yorkshire ghostly events.
Scroll down for events or select your area.
Knottingley Town Hall (Wakefield)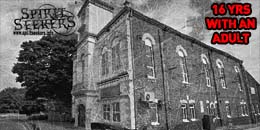 Hilltop, Headlands Ln, Knottingley, wakefield , West yorkshire WF11 9DG
View Map
9pm - 2am
9 places left


Friday 22/03/2019
£46 per person

Featured on TVs Most haunted. Built in 1865 on what was once a medieval monastery in vicinity of land evidently used for Saxon burials witchcraft and pagan rituals. Some rooms here are dark and foreboding and once interim used to store dead bodies. A malevolent energy here causes door handles to move fiercely and glasses fly off shelves. People have been grabbed and tables move on their own. Groaning and muffled voices are heard. Ghostly children are seen, spectral shadows resembling monks and ladies dressed in wartime clothes.
Tickhill Parish Room (Doncaster)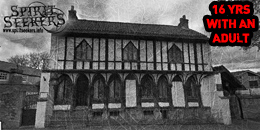 N Gate, Tickhill, Doncaster, South Yorkshire, DN11 9HZ
View Map
10pm - 3am SOLD OUT
0 places left


Saturday 25/05/2019
£27 per person

Dating right back to 1470 this was once a hospital ran by Benedictine monks. It's also been a tenement slum, a reading room, a school and a parish meeting room. With it being such a creepy old building the management don't stick around at night but they believe that there is something very unusual here. They would like to know "is it haunted?" It's never been investigated before and this is our chance to find out.