Haunted West Yorkshire - Paranormal Events West Yorkshire
Spirit Seekers for paranormal events throughout West Yorkshire.
See below to book our upcoming West Yorkshire ghostly events.
Scroll down for events or select your area.
Morecambe Winter Gardens (Morecambe)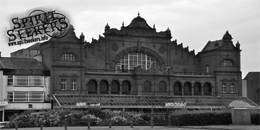 209 Marine Rd Central, Morecambe, Lancashire, LA4 4BU
View Map
10pm - 3am
18 places left


Friday 25/01/2019
£46 per person

Featured on TVs Most haunted. Created in 1897 as one of the largest theatres in the country. Host to a variety of famous acts and used as an RAF training facility during the war. It's haunted by its former architects, an Edwardian woman that died on the stairs, shadows that engulf and terrify people, a malevolent entity known to terrorise with vicious attacks, a former caretaker that will aggressively push people and a past manager that's violently opposed to any visitor. The theatre has one side good and one side very evil.