Grand Hotel (Scarborough)24
Videos, Pictures & Comments
weird orbs and something moving through lazer grid with k2 meter going offweird orbs and something moving through lazer grid with k2 meter going off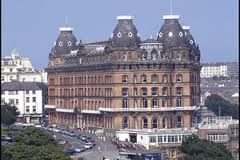 general pics of grand hotel (Scarborough)1
Excellent venue, brilliant guests and would love to go back

Well Grand hotel night was brilliant, funny, and bizarre. The group where buzzing from the start with a pinch of fear and a healthy dose of humor and we believe that this helped boost the paranormal activity. When we laughed we had paranormal responses. We even had sessions of joke telling courtesy of Louise Harwood . Some jokes where x rated though so I wont mention them. I was a bit in awe of the size and beauty of the building and felt proud to be there but for our group it was generally the smaller rooms that provided. We had responsive knocking on a cabinet in the meeting room and where able to establish that we where talking with the spirit of a young boy and his mother. The group where amazed with the Ouija board and we had a special moment when one of the group made contact with a member of their family. Whilst asking questions in bedroom 13 we had responses on the K2 meter and found that we where speaking with a performer. We also heard violin music and a baby's cry whilst using the spirit box. We heard footsteps in the bathroom and some witnessed shadows passing underneath the bedroom door leading to the passage. No one was outside and this fits with other reported ghost stories of the hotel. Once leaving the room a strange thing happened that yet again it was fitting with the ghost stories of the hotel. Whilst passing bedroom 11 the group where surprised to see the door handle moving and to hear the sound of a young girl saying "please help me, let me out." With due concern the group knocked on the door and after some time it was answered by a couple of holiday goers whom seemed to have no concept of who we were or why we where waking them up. Very strange! Excellent venue, brilliant guests and would love to go back again.
grand hotel (Scarborough)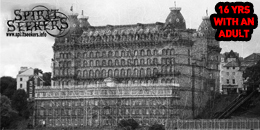 Saint Nicholas Cliff, Scarborough, North Yorkshire YO11 2ET
Map
10pm - 3am
15 places left


Saturday 25/01/2020
£36 per person

Built in 1867 to accommodate for most noble of guests. It was 1 of the largest hotels in the world with 365 rooms representing each day of the year. Todays visitors have commented on strange encounters & some have even left after witnessing items flying across their rooms & objects falling from walls, doors vigorously shaking & knocking with no one on the other side. Sounds of screaming, singing & laughter are heard & most commonly old fashioned music. Various apparitions are seen but none more so frequent than the lady wearing a long red dress.