Haunted Whitby - Ghost Tours Whitby - Whitby Ghosts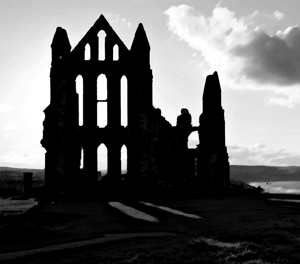 Whitby Abbey has reports of the ghost of a nun who had been bricked up in the dungeons and the ghost of the abbey's founder, St. Hild, gazing out from the windows.
Other Whitby hauntings include a ghostly coach that plunges over the cliff edge on its way to church, an entity that stalks the roads damaging cars and road signs, the apparitions of a pirate and children stalking the staircase and rooms of a hotel and phantom s of men and woman in various parts of this old seafaring town.
Whitby is also a key part of Bram Stoker's Dracula story and a host to a large number of Gothic pilgrims.